It is time to pull out the swim wear...
GASP!!!
I am normally not one to get excited about getting into a bathing suit, as I am sure most of you could agree, but every year it creeps up on me and I quickly regret not going to the gym more. However, this year I feel there are so many cute, yet modest options out there. Before it felt like I was stuck with that tight basic one piece I would see someone sporting in the Olympics.
You know what I am talking about right?
Now don't get me wrong, if you are that talented to be in the Olympics then, heck, you should be able to wear whatever you want. However, I am far from having that perfect body, and a shiny skin tight suit would show off way too many lumps, and I am not talking my lovely lady lumps :)
Plus pool time and my body just aren't what they used to be! Those days of laying out and reading a magazine are long gone. Now I worry my kid is going to show more than I want, as he is clinging on to me for dear life trying not to touch the water. Little does he know he is only clinging onto my swim top. You have all been there right? Yeah it happened once at church... it made for one of the top 5 embarrassing moments in my life!

I am now looking for a suit with support for the "ladies" and ruching around the tummy, but most importantly, one I can chase my little one around the pool and feel comfortable in.
If anyone of you are in my same situation I have decided to come up with a few swim wear outfits that I would wear.
Click on any of the swimming suits and it will take you directly to where you can purchase it from Old Navy
OPTION ONE:
For The Young Mom
This is what I would wear every day to the pool or beach...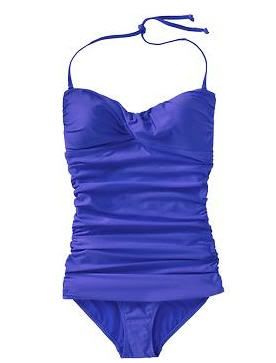 OPTION 2:
Daring Girl
For when I am swimming just with my husband and or by myself.... (I am not that daring)
OPTION 3:
Little Boy
What Jaxon would wear...
OPTION 4:
Little Boy With An Obsession With Cars
What Jaxon would want to wear but I am a mean mom and will put him in the above outfit. :)
OPTION 5: For The Guy
I am going to buy these both for my husband...
I hope this helps you as much as it does me! Now it is time to pull out that sunscreen and dust off those flip flops... I am off to the pool!
Thank you again to Old Navy for sponsoring my post. I was compensated for this post as a member of
Clever Girls Collective
, but the content is all my own.